September 2023: Will Stoner started as a London trainee in 2011 and is now a partner in our Financial Restructuring and Insolvency team. Here's the inside track on his own career journey and his top advice for students who want to know more about our Firm.

Working in law is a team game
On TV, being a lawyer is all about the big moments of individual brilliance. But in reality, everything we do is as part of a team. Almost every piece of work is reviewed by multiple people. Being part of a team can also mean being a leader, but it always means being part of something bigger than just your own work.
One of the most important qualities for a lawyer is empathy
Being able to put yourself in the shoes of your client, members of your own team and lawyers in other jurisdictions is a vital skill. Empathy means that you appreciate other people's ways of working and don't assume that your own way of seeing the world is the same for everyone.
It's never too early to build the skills you'll need throughout your career
Presenting is something you'll likely do more of as you become more senior, so take every opportunity to practice as a student. Another example is delegation. As a young trainee, I had no idea how to delegate; whether it was to my PA or to other team members. But delegating is something that you need to do at every stage of your career.
Broadening access ensures greater diversity long-term
Ensuring that everyone has an equal opportunity to work and succeed here means considering the needs of underrepresented groups before, during and after the recruitment stage. I've been involved with a programme to mentor A-level students from a disadvantaged backgrounds, through the Firm's partnership with a social mobility organisation. We also use 'blind' CVs in interviews, which help us make more objective decisions about a candidate. Our affinity networks are open to everyone, and I try to go to as many events as possible. Allies have an important part to play.
Working overseas or going on secondment helps you grow as a lawyer
As a trainee, I did my overseas seat with the Arbitration team in the Paris office. Three years after qualification, I did a nine-month secondment to Goldman Sachs, which was an invaluable insight into our clients' needs and priorities. And more recently, I spent six months working in our New York office, which really helped deepen my connection with the team there.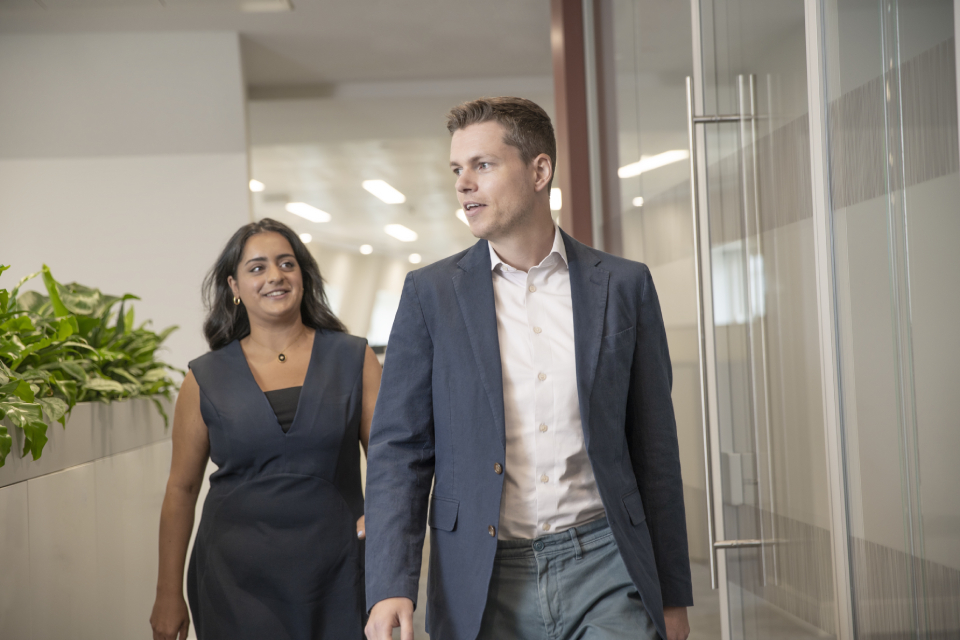 From day one at White & Case, the work is international
My first-ever deal was a sovereign bond issue for Senegal, which was an amazing experience. I'm currently working with colleagues in South Africa on a large matter in an East African country. I did a deal for a big Kazakh business that closed earlier this year. I'm also working on a big German deal for one of our largest London-based clients. Every day involves speaking to colleagues or clients in other countries—that's what working at a firm like White & Case is like.
A full-service global firm is designed to weather economic cycles
As a restructuring lawyer, my work is busiest during economic downturns. Other areas, like Capital Markets or M&A, are busier when the markets are booming. As a full-service global firm, there are always new opportunities for us. As a trainee, you'll get exposure to different practices, learn about our business and discover the area in which you want to work.
A global mindset doesn't require you to have travelled the world
Show us that you understand what businesses or technology are driving the global economy, that you're informed about current affairs. Maybe you have a particular interest in one region because of a family connection. It's not about how many stamps you have in your passport.
Show us how your work experience is relevant
One of the best candidates I ever interviewed had worked at a fast food restaurant for two years during university. He could clearly demonstrate great experience of dealing with challenging situations, juggling lots of demands and delivering excellent service.